If you like creamy, sweet potatoes with a buttery texture, then you'll love how they turn out in the slow cooker or Instant Pot! Try this hands-off, foolproof method for perfectly cooked sweet potatoes.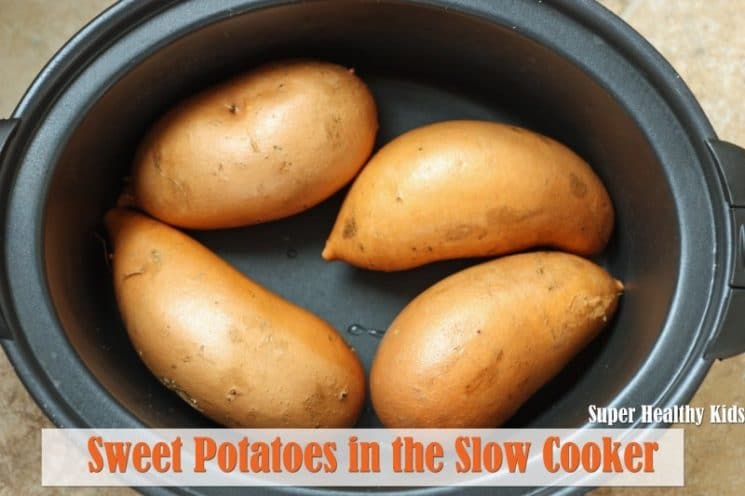 Sometimes I feel like when I cook my sweet potatoes in the oven, they don't quite get soft enough for my liking. Cooking them in the slow cooker or the Instant Pot is incredibly easy, and they turn out so good they literally almost melt in your mouth. And the best part is you don't need to add anything to them!
Super Nutritious Sweet Potatoes
We love sweet potatoes because they are very versatile, tasty, and they can be cooked in a variety of ways. But we also love them because they are SO good for you! Some of the major health benefits are these:
VITAMIN A 262% of the Daily Value in ONE small sweet potato!
VITAMIN C 29% of the Daily Value in ONE small sweet potato!
Beta – carotene 23,018 mcg
Fiber Twice as much fiber compared to regular potatoes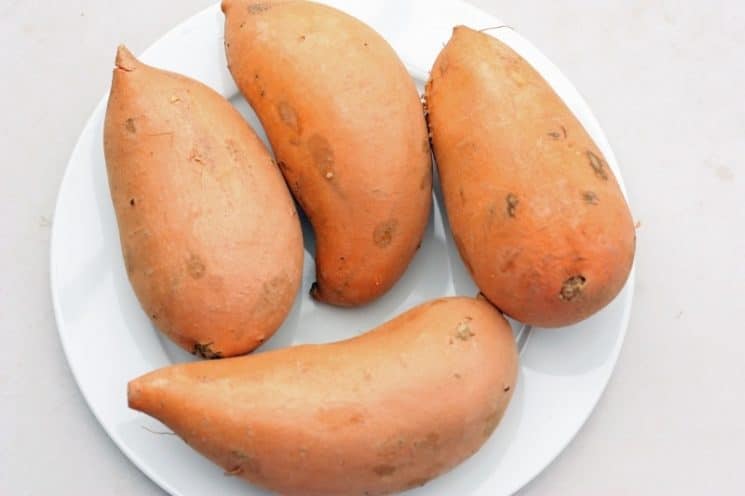 How to Make Sweet Potatoes in the Slow Cooker
First, rinse/scrub the outside of your sweet potatoes. I like to scrub them well because we like to eat the skin. Don't dry them; just put them right in your slow cooker. The liquid that clings to the outside of the potatoes after rinsing is the only liquid you need.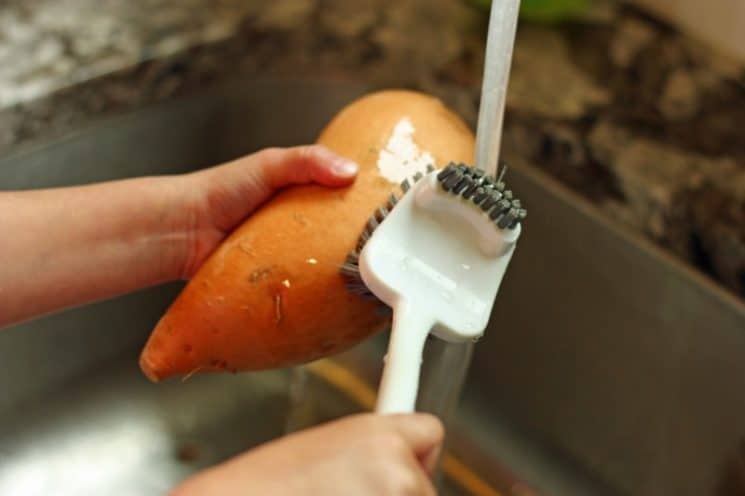 Set your cooker to low and cook for 6-7 hours depending on how big your sweet potatoes are. I recommend cooking 4 at a time so they're in a single layer on the bottom of the pot. This helps them cook evenly. They'll produce a little bit of liquid during the cooking process. You'll know they're done because you will be able to stick a fork right through the potato.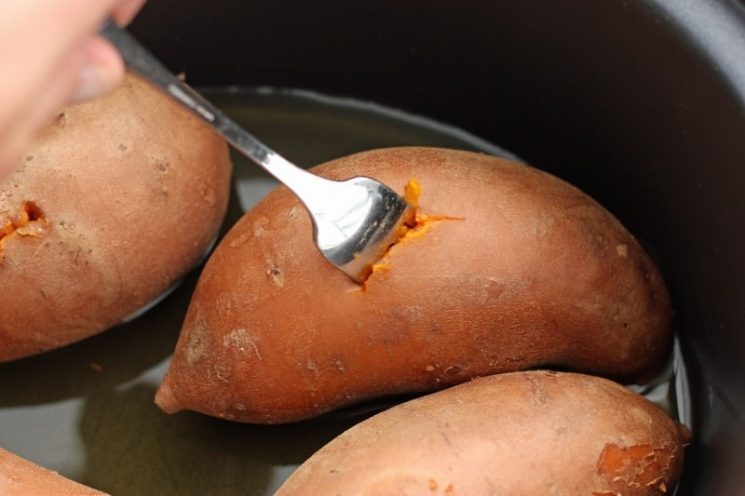 How to Cook Sweet Potatoes in the Instant Pot
Cooking extra-tender sweet potatoes in the IP is just as easy as using your slow cooker. (And it's faster, too!)
Rinse and scrub your sweet potatoes, and place them on top of the metal wire steaming rack that came with your IP. Like this:
Add one cup of water to the bottom of the IP, and lock the lid. Set the pressure cooker to cook for 15 minutes under pressure for medium-sized sweets, or 19 minutes for large sweets.
Let the pressure come down naturally for at least ten minutes. (You can let it come down naturally all the way if you like… but if you're in a hurry to eat, you can go ahead and flip the valve after ten minutes.)
That's all there is to it! With basically no effort yo'll have perfectly cooked sweet potatoes: smooth, creamy and sweet. These are so good!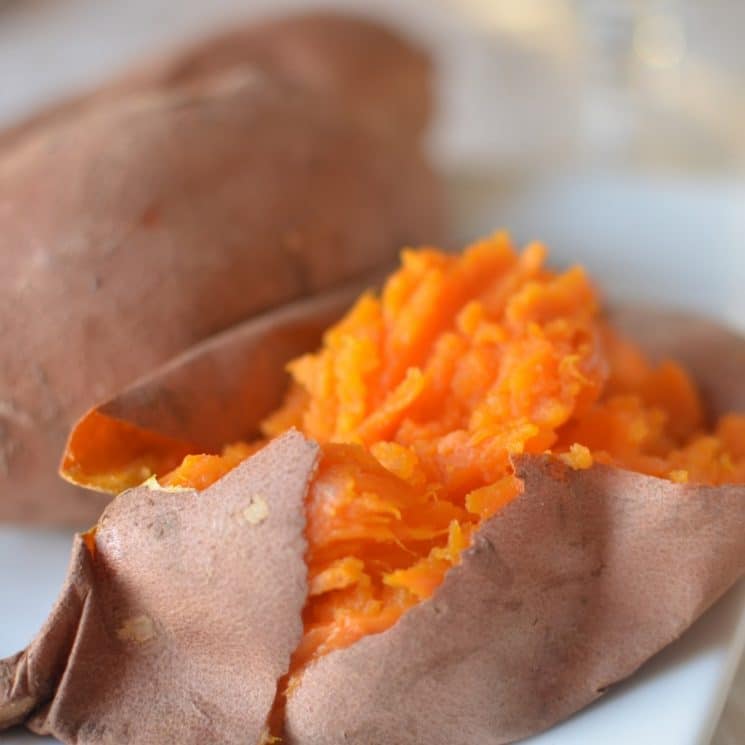 We like to eat them just like they are, as a side dish for dinner, or the main course. Cooking them in the slow cooker or Instant Pot is great, because you can cook a lot, save them in your fridge and then use them for all of these other yummy recipes!
More Sweet Potato Recipes
Eat MORE of this tasty and nutritious veggie! Try these recipes:
Sweet Potatoes in the Slow Cooker
Instructions
Rinse sweet potatoes well. (Don't dry them off.)

Place sweet potatoes in a single layer on the bottom of the slow cooker.

Set the cooker on high 6-7 hours, or until potatoes pierce easily with a fork.

Serve hot, or cool and refrigerate up to 5 days.
Instant Pot Sweet Potatoes
Instructions
Place the steel steamer rack inside the instant pot, and add one cup of water.

Rinse the sweet potatoes* and arrange them on top of the rack in a single layer, as many as you would like, and can fit.

Lock the lid and set the manual pressure: 15 minutes for small-medium sweet potatoes, and 19 minutes for large sweet potatoes.

At the end of cooking, let the pressure release naturally for at least 10 minutes, or until the button drops.
The post Sweet Potatoes in the Slow Cooker (Or Instant Pot!) appeared first on Super Healthy Kids.